AIRSHOW LESZNO 2022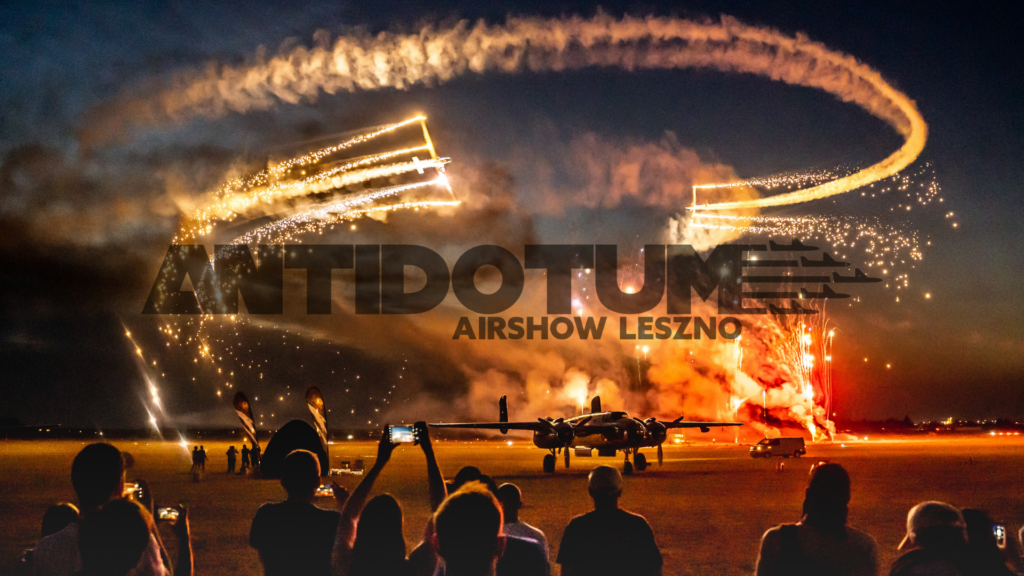 ANTIDOTUM Airshow 17th – 18th June 2022 in Leszno (PL)
On Thursday, after 7 hours driving, we arrived in Leszno (PL). A big Airport with 3 runways. We met Witek and his Team right in front of the Hangar. He was very nice and friendly and we where happy that we finally met each other. We took some rest and afterwards we had the first briefing. Witek showed me around the area and also all emergency landing fields.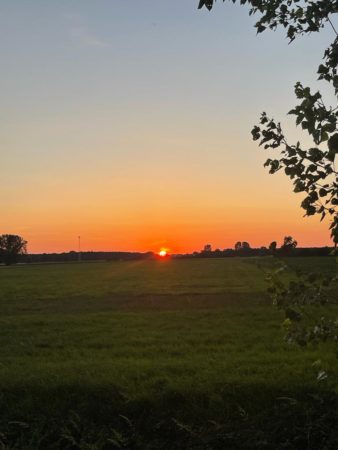 Next day between 0700 and 0800 we had a reserved trainings slot and could use the time for getting a first impression of the area from above during a flight with my towing master Kornel. The first 2 training flights where really great and i could test the smoke bombs, my maneuvers and the fast flyby with 180° Turn into the final with landing exact in the front of the spectators area.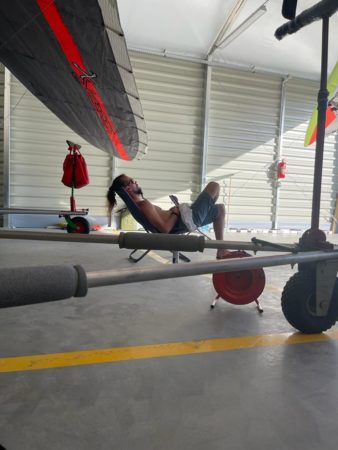 5p.m the big airshow began. The whole team took the shuttle bus to our hangar, where we could enjoy the show from the "first row". I tried to get focus on my display and prepared and set up my glider. Kornel was working on his Trike. During the setup and the last discussion with Pavlo, which was the chief of takeoff, a hollow bang was caused by a F-16 which flew over our heads into the display zone. It was amazing to watch the performance. Eurofighter, C130 Hercules, RedBull Aerobatic Teams, Luca Baumann with his special Jet modelplanes, where following.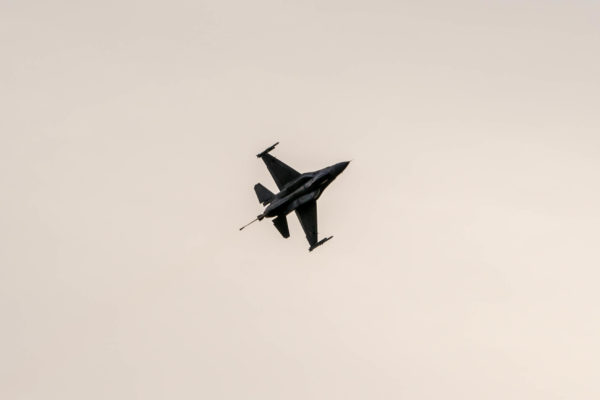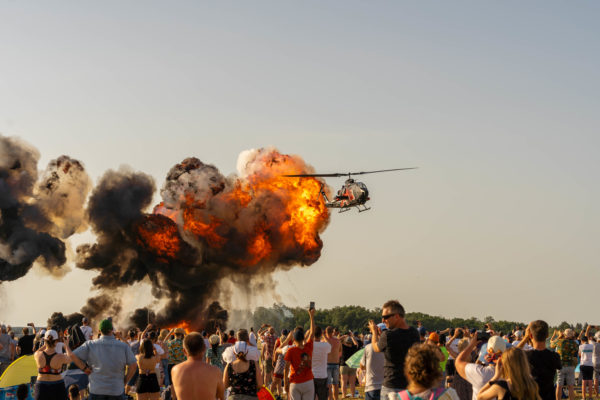 The time passed by so fast, and we needed to get into the launching area. 20:54 was our T/O Time. Kornel, Witek, Pavlo, Robert, Daniela and me where quite nervous of the first launch during this big Airshow. Pavlo gave us the time and exact at 20:54 we took off. Right through the display zone into our holding area. It was kind of strange, to see all the people and the party down there and in the sky i heard just the wind and Kornel's Trike. I don't know if i was nervous or not, i was just focused to have a great performance.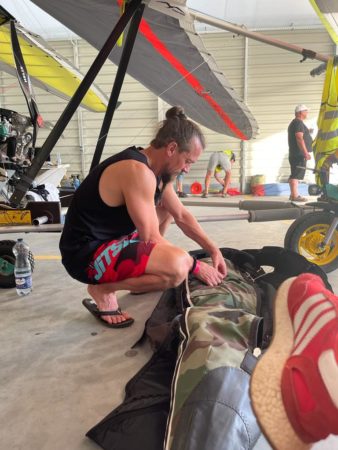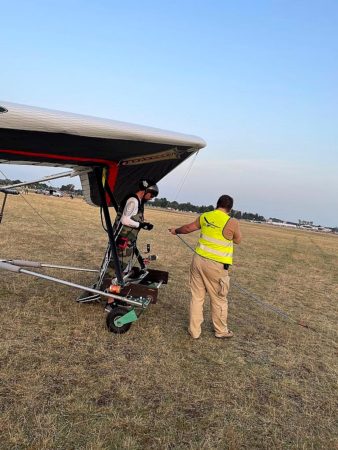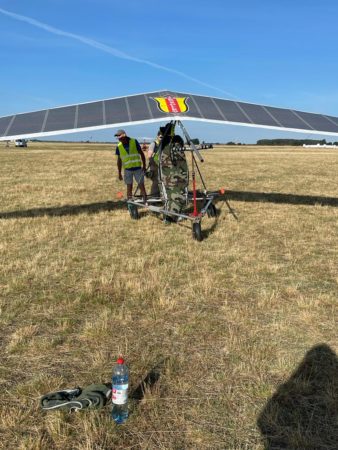 Kornel headed back into the display zone and gave me the sign to release the line. Now everything was up to me. I had a way to much altitude, so i needed to reduce the high by gaining speed and playing around. Then i ignited the smoke bombs and the show could began.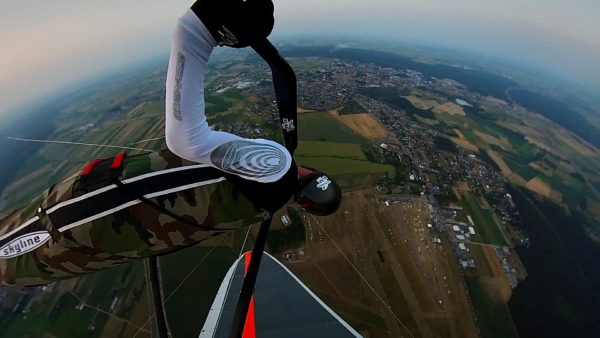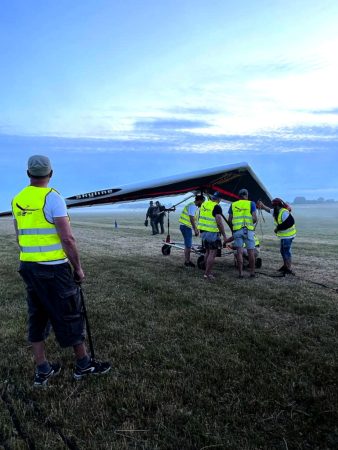 Spinning to the right and took care to get out in direction of the runway and not to close to the spectators. Gaining Speed for Wingover and Loops. Spinning to the left and getting out in the right direction. I still had too much altitude, so there was time for improvements. Lukasz already fired the white smoke in the landing area. I performed the fast flyby with 180° degree turn into the final. Landed….the crowd where clapping and the commentator made a great atmosphere. It was unbelievable that the first time in front of so many people, a hangglider could perform a great show. Witek, Lukasz and all other where already with me and helped me to secure the glider. The reason was the MI-17 Helicopter who performed a great show right after me. But the down wash was incredible.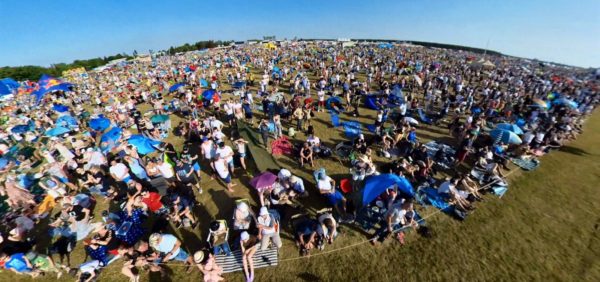 After we where back at the hangar, we had a short debriefing and everyone was more then happy, that the first show worked out that well! But no time for party, because the same show was taking place on Saturday as well.
Saturday 1p.m, the meet director called a briefing for all participants during the night show. Also we, from Team Acroproject, had to come. We had to improve some parts for our night show, which we discussed in a seperate team briefing.
Back at the hangar we set up and checked again our equipment till the point where the F-16 was flying again over our heads. Later, at the launching place, Kornel and Pavlo where already waiting for me. Launch was again exact at 20:54 and we could take off into the smooth air of Leszno. 270° turn into the holding. Then back into the display zone and Kornel gave me the sign for releasing the line. I could start my Display today with Lower Altitude and all what we had discussed worked out perfectly. I felt very good and during the flyby i realized, that there where much more people then yesterday. 180° degree turn into the final.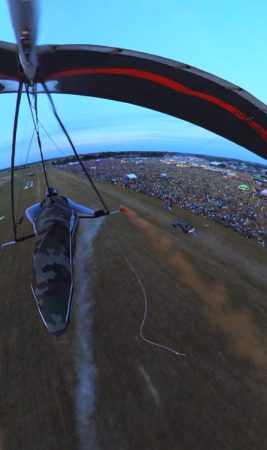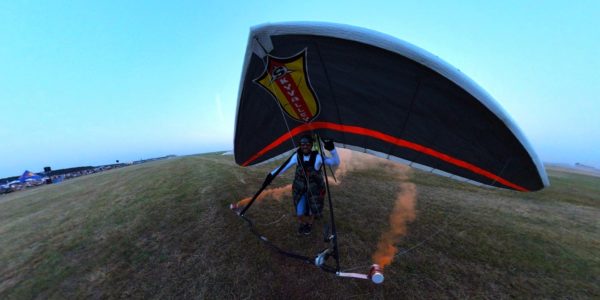 The landing was exact in Front of the stage where Live Music was playing during my display. The atmosphere was unbelivable and everyone of the Team where happy, that this time, everything was perfect. Some of them had already tears in their eyes. We couldn't hide how happy we where. Also more then 35.00 Spectators enjoyed it. 3 Minutes Prime Time during such an airshow is for everyone a big achievement. Witek and his Team was working for 3 years now to be part of this show. For me it was always a big dream to be part of an airshow like this and i feel really honored that this worked out now.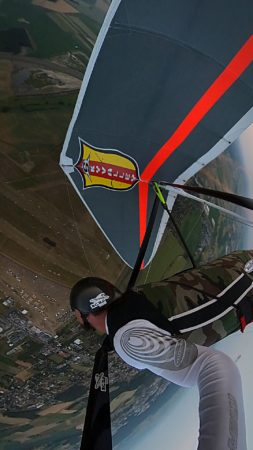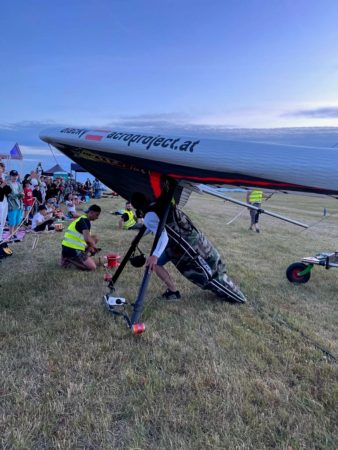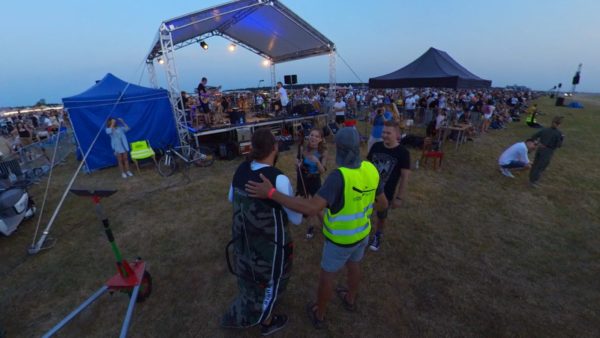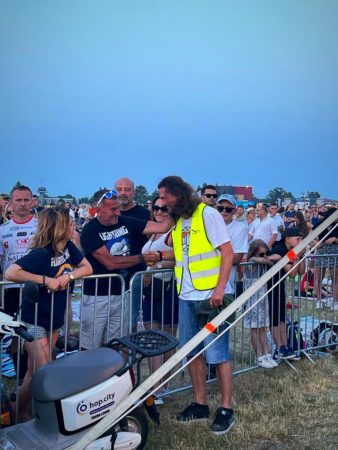 A Big thanks goes out to:
Kornel Kempinski – Towing Master
Robert Bernat – Mentoring, one of the fastest rigid wings this world has
Pavlo Mashurenko – the chief of take off OPS and schedule coordinator
Lukasz Busz – landing area assistance and signaling, RC model maker and HD bike expert,
Mateusz Starczewski – landing area assistance and camera, language translation, master instructor spinning and fitness
Karol Gadzinowski, Piotr Boruszewski – very, very supportive "Tajwanski Zab" hangar owners, our logistics was on another level thanks to their hospitality
Witek Wojciechowski – Overall coordination and contact to Airshow and Meet – Director
Daniela Herz – Assistance and great support during this great weekend.
Johannes "Blacky" Schwarz – ACROPROJECT and Display Pilot
and finally to the whole ANTIDOTUM Team in Leszno. Many thanks for the invitation to this great event, the great organization and their hospitality.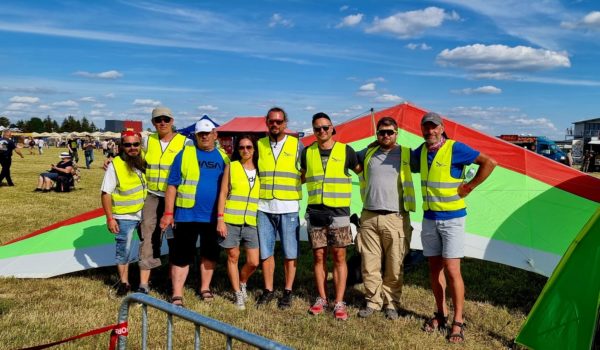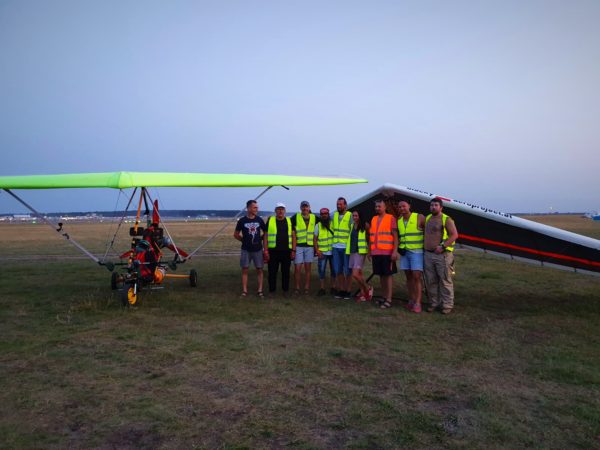 We felt amazing good and went back home on sunday with a big bag filled with new friends and alot of great people we met, a lot of new and unforgettable experiences, and of course a lot of work 😉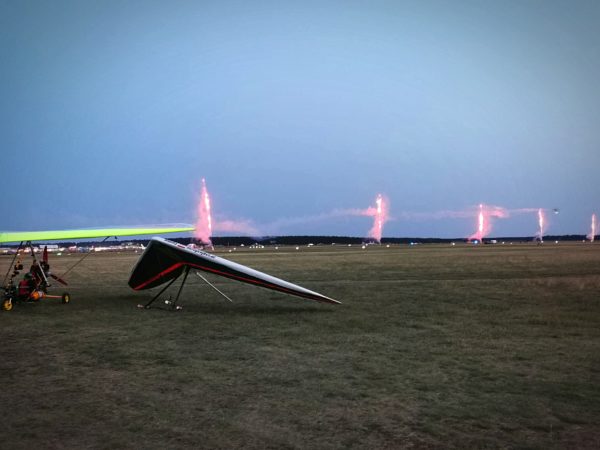 THANKS TO ALL FOR THIS GREAT WEEKEND….a Dream came true.
Cheers,
Blacky